News
Sarah will be speaking on two panels at the Save the Children Action Network Advocacy Summit in Washington on April 21 & 22  (click logo above for details)
Just 1 Book Founder Selected As TeenNick Halo Effect Honoree
TeenNick selected Sarah Dewitz, founder of Just 1 Book as their "Halo Effect" Honoree for the Month of January, 2015.  The award goes to young adults who are inspired to change their community.  Just 1 Book will receive a $5000 donation to support reading with at risk children.  Click on the link above to learn more about the Halo Effect and Just 1 Book.  Thanks TeenNick!
Shop for the Holidays via Amazon.com and support Just 1 Book
Amazon.com's "Smile" program has partnered with Just 1 Book so that contributions can be made via supporters on-line shopping.  Shop here http://smile.amazon.com/ch/27-3098732 and a percentage of the money you spend via on-line shopping will be donated to Just 1 Book at no cost to you!  Shop great discounts, avoid the stress of crowds, parking lots and last minute worrying and support your favorite little non-profit!
News Release
Orlando teen who started book charity group wins national Kohl's award
9:53 a.m. EDT, August 1, 2014
Sarah Dewitz of Orlando has won a $10,000 Kohl's Cares scholarship (Courtesy photo / August 1, 2014)
  Sarah Dewitz, an Orlando teen who founded a charity called Just 1 Book, has won a $10,000 Kohl's Cares scholarship for her efforts. She is one of 10 national winners, earning the scholarship for her own college education. Kohl's is also donating $1,000 to a charity of her choice. Dewitz was chosen from among more than 37,000 nominees for the award. Sarah created Just 1 Book more than four years ago after reading about economic need in Bithlo. She challenged her peers at Cypress Springs Elementary to collect and donate 763 books, one for each child at the school, for the local community center. The effort took off, and she collected and donate more than 15,000 books. Inspired by the success, Sarah, 14, created Just 1 Book and launched a bookmobile that shares books with low income families throughout Central Florida. The group has provided more than 200,000 books to children in Florida and is expanding to New Jersey this year
Just 1 Book Attends Bithlo Back to School Event for 5th Year in a Row! 
Busy Summer Begins with an interview on nationally broadcasted cable show "Emotional Mojo"
Another busy summer of book distributions has already started.  Just 1 Book went out to Zander's Park and distributed books to kids at a vacation bible school and has a dozen more distributions planned.  In addition to that, Sarah was interviewed for the nationally broadcasted cable show "Emotional Mojo."  Sarah described how J1B got started and it's plans for the future.  Check out www.emotionalmojo.com for air times of the segment.  Check our calendar for dates/times/places for our distributions!!
Exciting New Sponsors!!!
We are excited to announce we have THREE NEW sponsors signed up to support Just 1 Book.  Please welcome The West Orange Times www.wotimes.com, The Women's Family Law Firm www.womensfamilylawfirm.com and the Orlando City Soccer Foundation www.orlandocitysc.com as sponsors!!  Just 1 Book is honored and delighted to have the support of these great organizations.  Please check out their websites and support our sponsors.  Without them and you we can't do what we do!!  Thanks Sponsors!!  You Rock!!
For Immediate Release
Just 1 Book Founder Awarded Scholarship by Kohl's
We Need Your Help!!
The Just 1 Book Mobile has blown its transmission!  We desperately need your help to get it running again so that we can deliver books in to the hands of kids in need and at risk!  We are committed to many distributions throughout the summer for summer reading camps!  We can't fulfill our obligation to these great kids without our book mobile.  Please, please make a donation using our secure Pay Pal site (found on the lower left of this page).  ALL donations are tax deductible.  Thanks for your support!!
Founder of Just 1 Book Honored with "Daily Points of Light Award"
Award presented by former President George HW Bush's Points of Light organization
The power of the individual to spark change and improve the world – that's what the Daily Point of Light Award celebrates, with more than
5,000 winners so far
.
Whether it's a teenager battling culture bullies or a plumber creating a school's volunteer network, a mom leading a homegrown disaster relief drive or an athlete wielding his celebrity for good instead of goods – a Daily Point of Light embraces the challenge of tackling a community need through volunteer service. To read Sarah's award, click on the following link: http://www.pointsoflight.org/programs/recognition/dpol/awards/5112
Fiesta in The Park………..4th Year in a Row!
Come on out and see us on April 5th and 6th from 10am – 5pm; local artists, crafters, food, fun and Just 1 Book!
  Upcoming Events March 30th – Come out and say "Hello" at the Whole Foods Market, Phillips Crossing, 8003 Turkey Lake Road, Orlando, FL.  Shop at this great store and "Donate Your Dime" to Just 1 Book! April 5th & 6th – Fiesta in The Park!  Our 4th year at this great event filled with music, crafters, food and friends!  Come out and bring a book, get a book and learn how you can "Make a Difference in the Life of a Child" through Just 1 Book April 10th – Literacy Night at East Lake Elementary, N. Tanner Road, Orlando, FL.  Just 1 Book providing FREE books to all the great kids at East Lake. April 19th – Charity Shredding Event provided by the Kissimmee Kiwanis, Park and Ride, Shady Lane, Kissimmee, FL.  Get your important business, personal and private documents shredded for free (just in time for tax season!!).  All donations accepted and donated back to charities like Just 1 Book!
FOR IMMEDIATE RELEASE
Whole Foods Market of Phillips Crossing in Orlando announces Just 1 Book as their charity for their Donate a Dime Program!!
We are very excited to announce that through your support, last quarter we raised over $4,000 for Orlando Community Arts through our Donate Your Dime program. … Now through April 13th we will be collecting Donate Your Dime donations for
Just 1 Book
! Not familiar with the Donate Your Dime program? For every reusable bag you use at check out, we offer a 10 cent refund. You have the choice of either keeping it or donating it to a our local charity. It's amazing how far 10 cents can take you!
Interior Renovations are Nearly Complete!
!
Thanks to a grant from the Kiwanis Foundation and the East Orange Kiwanis Club, the interior of the book mobile was able to be renovated.  There are just a few finishing touches that need to be done to complete the job.  Take a look at some of the Before and After pictures.
        Sarah and Just 1 Book recognized in Orlando Sentinel columnist Scott Maxwell's yearly Thanksgiving column http://www.orlandosentinel.com/news/opinion/os-orlando-101-best-things-scott-maxwell-20131126,0,5403771.column     FOR IMMEDIATE RELEASE                            Contact:  Sharlene Dewitz (407) 489-1708 Just 1 Book and Lowes come together to host "Book Sorting" event thanks to donation from Scholastic Books Scholastic Books donates books to local non-profit founded by 10 year old Sarah Dewitz; book sorting event to be held at Lowes on Lake Underhill. Orlando, FL (Nov 11, 2013) – Just 1Book, a non-profit founded in 2010  by then 10 year old Sarah Dewitz to increase literacy and bring books to at risk children, is hosting a book sorting event at Lowes on Lake Underhill, thanks to a donation from Scholastic Books. As a fourth grader, East Orlando's Sarah Dewitz found inspiration in an article about the area's recession victims. "If they don't have money for life's basic necessities" she thought, "they definitely don't have money for books." An avid reader herself, Sarah decided to start an organization to collect books and distribute them to people in the community that so desperately needed and wanted them. She named her non-profit Just 1 Book and as part of her first book drive at her elementary school, collected over 1500 books.  Soon other schools and civic organizations jumped on board and Sarah's "little idea" grew in to a fully functioning non-profit with a mission. Now three and a half years later, Sarah and her organization have collected and redistributed over 200,000 books.  Lowes, a partner with Just 1 Book from the start, originally donated wood and labor to create bookshelves for a free, easily-accessible library for the Bithlo-Christmas Neighborhood Center for Families.  Last year, Sarah and Just 1 Book acquired a book mobile to assist with the delivery of books to "kids in their own neighborhoods."  The Book Mobile interior is currently undergoing renovations and Lowes is assisting with providing the materials needed. Scholastic Books became aware of Just 1 Book and its mission about a year and a half ago.  Just 1 Book President Sharlene Dewitz met with representatives in Orlando and New York City to describe Just 1 Book and its mission of increasing literacy in at risk youth.  Scholastic donated two pallets of books last year and has committed to another delivery of books this year. The "book sorting" event will involve sorting those books in to boxes by reading level.  Volunteers from Lowes, the Kiwanis and other organizations will come together to accomplish the task.  The event will be held in the parking lot of Lowes on Saturday, November 16 at 10 am until finished. For more information, find Just 1 Book on Facebook or go to www.just1book.org
Come visit Just 1 Book at Fall Fiesta in the Park at Lake Eola Nov 2-3
Our 4th Year attending this Great Event!
Please check our Events Calendar Page for a list of all our upcoming events!!
Welcome My Neighborhood Storage Center as a new sponsor!!
click on the logo below to find a location near you!
3rd Year in a Row at Commissioner Jennifer Thomspon's District 4 Back to School Event
Just 1 Book still busy with Summer and Back to School Book Distributions; please check our "Events Calendar" page!!
Check out our new video that shows the journey of our Book Mobile!!
http://www.youtube.com/watch?v=ARvVgy8ryZA&feature=youtu.be
Just 1 Book very busy through the summer; over a dozen distributions so far!  Here is a picture from the Geneva 4th of July Celebration.
Sarah with Grace and Gloria; new friends who love to read!
Check out our new video produced by The Lou Frey Institute at the University of Central Florida!!
http://www.youtube.com/watch?v=Ljc6jjDxx9g
Check out our Gallery Page to see all the great photos from our RIBBON CUTTING!! 
CHECK OUT  THE EVENTS CALENDAR……….WE ARE BUSY AND NEED YOU!!
ust 1 Book Founder Named An "Everyday Hero" by CF News 13
http://www.youtube.com/watch?v=873V-1SFak0
Just 1 Book Donates Books to Homeless Children
Tom DeJulio (in blue suit), president of Kiwanis International, reads a book as part of a book giveaway to homeless Seminole County children in Altamonte Springs on Feb. 16, 2013. Sitting with DeJulio (from left to right) are DeQunnte Samuels, 7; Sylas Hazlewood, 3, sitting on the lap of his sister, 6-year-old Angela Hazlewood; and Sarah Dewitz, 13, of Orlando, who founded the Just 1 Book charity to give books to needy children. (Ludmilla Lelis/Orlando Sentinel)                                                (February 16, 2013)
http://www.orlandosentinel.com/news/local/breakingnews/os-books-giveaway-seminole-kids-20130216,0,5857969.story
By Ludmilla Lelis, Orlando Sentinel
4:09 p.m. EST, February 16, 2013
                                                                                                                                                                                                                                                                                                                                                                                                                                                                                                                                                                                            Homeless children from
Seminole County
received free books through a giveaway on Saturday, sponsored by the Florida Kiwanis and organized through a local program called "Just 1 Book." The statewide Kiwanis had adopted the book campaign as one of its programs and donated 5,000 books for local children, said Allen Whetsell, governor of the Florida Kiwanis. Children picked out the books at the Hilton
Altamonte Springs
, where the group is holding its midyear conference.                                                                                                                                                     Dion
Lee Hazlewood
, whose family is temporarily living at a
Casselberry
motel, said the book giveaway meant so much to him and his children. "When we got evicted, we lost the books we had, but I was able to find so many of the books that I grew up with,
Dr. Seuss
, Shel Silverstein," Hazlewood said. "I don't know how I could pay for any of these books." Just 1 Book was founded by 13-year-old Sarah Dewitz of Orlando, who organized her first book drive for needy children three years ago. Since then, Just 1 Book has received and distributed more than 100,000 books, said Dewitz, a student of Arbor Ridge School in Orlando.
3 Kings Day, with Florida Governor Rick Scott and Orange County Mayor Teresa Jacobs Just 1 Book receives generous donation of books from Scholastic Scholastic Books, the wonderful company that conducts book fairs for our schools, generously donated thousands of NEW books to Just 1 Book.  These books were immediately placed on our book mobile for distribution to the children we serve.  Thanks so much to Scholastic and Mr. Scott Capriglione, VP of Operations for taking the time to learn about Sarah and Just 1 Book at the UCF Book Fair.  Mr. Caprigilione committed to helping J1B and he and Scholastic certainly did…in a BIG way!!  
  Give Back Central Florida Announces Empowering Our Youth Campaign to Benefit Just 1 Book Give Back Central Florida, a major sponsor and advisor for Just 1 Book has announced their latest campaign.  Please click on the below to see how you can get involved!! Empowering Our Youth Campaign Summary
  Just 1 Book Founder Receives Special Recognition from the Women's Executive Council!
Thank you to the Women's Executive Council for presenting Sarah with their first ever Rising Star Award. She is honored to be recognized by this great organization that empowers and recognizes women.  Below she is pictured with Woman of the Year, Mayor Teresa Jacobs
New Logo and Graphics!!
Just 1 Book founder Sarah worked with our sponsors to develop a new brand image and different graphics that highlight reading and a child's imagination as the theme.  This theme can be seen on all of our newly printed literature, our business cards and even our Book Mobile!!   We are really excited about this and hope that you like it!  
Just 1 Book Hits The Road By Megan Stokes May 2, 2012 5:07 p.m. Archive http://www.eosun.com/news/2012/may/02/just-1-book-hits-road/

Sarah Dewitz stood far from the bookmobile's swinging door, afraid to enter. It wasn't the fact that the bus had been abandoned in Orange County's lot off of Michigan Street and Bumby Avenue for the past four years, or the pair of pants she found in it days earlier that weren't there the first time she toured it, but rather the huge spider that made the entrance to the bus its home.
The bookmobile was funded four years ago by the county but lost its funding that same year, so it's been abandoned, sitting on flat tires, an inch of dust collected on each of the book shelves and the reading posters on its walls starting to curl. But to 12-year-old Sarah, it's like finding gold. Since she and her family started Just 1 Book two years ago in April, they've collected and donated more than 75,000 books for kids who might otherwise not be able to afford them, set up mini libraries in community and Head Start centers in areas where reading material is more scarce, and created state and nationwide partnerships to expand Just 1 Book's reach. But a bookmobile was always Sarah's dream. "I wrote down a list of things I'd like to see with Just 1 Book when it started. On that was an ice cream truck but for books," said the East Orlando girl. The bus will help the organization collect and distribute more books at events — Sarah's mom Sharlene Dewitz has car filled to the ceiling with boxes of books — and will allow them to more easily reach kids groups, such as summer camps and Head Start programs. They estimate a couple thousand books can be stored in the bus at a time. The Dewitz family found out that the county had the bus in its lot last year, and immediately started working on a way to claim it. At the April 24 Orange County Commission meeting, the motion to sell the bus to the family for $1,800 was all but approved until Mayor Teresa Jacobs decided it should be donated instead.
"I can't think of anyone in this county who could do better with a bookmobile than Sarah Dewitz. This is the most remarkable young woman. In two years she has gotten people to donate 75,000 books… 75,000 books," she said, astounded. "If we could clone her, we could change the world and even if we don't, she could change the world herself."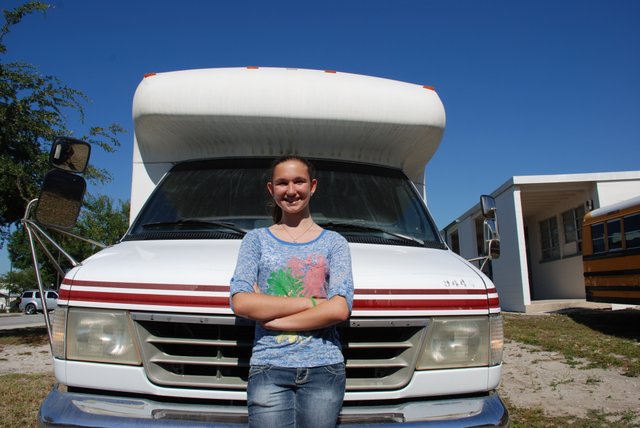 Sarah never saw that coming. In fact, in the beginning, she was sure it would have been at least 10 years before her bookmobile dream would come to fruition. "I thought it would take longer for it [Just 1 Book] to catch on and for people to realize that kids want and need books. People say, 'Oh, kids don't like to read anymore'. They do," she said. Sarah's dad Bill Dewitz said he had a mechanic look the bus over before they moved ahead with trying to purchase it. The bus is in fairly good condition with only 7,500 miles and a need for a new battery, new tires and new brakes. Nonprofit organization Give Back Central Florida has committed to financially helping to fix up the bookmobile. "The poor thing has been sitting here," Sharlene said, looking pitifully at the bus. Although Sarah is the face of Just 1 Book, it's truly a family effort. One member of the family who's usually behind the scenes is Sarah's 15-year-old brother Danny. When first asked what he does for the organization, he modestly lists grunt work such as lifting boxes or setting up tents at events, but he's made a huge impact on the growth of Just 1 Book. He attends Boone High School as a magnet student. When he heard the Student Government Association was looking for a service project, he pitched Just 1 Book. They collected 3,500 books in March and plan to continue serving Just 1 Book in the future. Danny's constantly thinking about ways to help the organization. While touring the Florida governor's mansion with his high school class, he gave the curator there Sarah's business card. "Everyone needs books. Everyone needs an education," he said. "I'll be in it as much as I can, doing anything I can do to help. All Sarah has to do is ask, she knows that." In August, the Florida Kiwanis Governor is scheduled to announce Just 1 Book as the statewide service project, which means all 261 clubs in the state will be collecting books and dispersing them to kids in need. A Just 1 Book has also launched in Sharlene's hometown of Carteret, N.J. So far, 6,000 books have been collected there. "We're hoping to get more communities nationwide,' Sharlene said. During the Orange County meeting, Jennifer Thompson told Sarah, "The world is your oyster. This is just your first bookmobile and your first 75,000 books." Volunteer Vixens – are running a book drive through January for Just 1 Book! Jan 11, 2012 – Just 1 Book distributes 1200 books at the "Three Kings Day" event at Meadowwoods. Dec 18, 2011 – Just 1 Book distributes 1200 books to kids in the East Winter Garden area as pasrt of the East Winter Garden Celebration. Nov 18, 2011 – Just 1 Book Founder, Sarah Elaine Dewitz is honored as the David R. Roberts Youth in Philanthropy Award winner, sponsored by the Edyth Bush Foundation.  This award was presented on National Philanthropy Day.  Sep 24, 2011 – Art Walk at Avalon Park – a great time had by all!  Congratulations to Wetherbee Elementary for being selected as "Best in Show" by our celebrity judges, Jana "Banana" Shelfer from 104.1 RealRadio's The Philips Phile, Orange County Commissioner Jennifer Thompson and District 2 School Board Member Daryl Flynn.  A HUGE Thank YOU to Avalon Park Group, Stephanie Hodson and all the vendors for their support!!  See you next year!!   Sep 10, 2011 – Huge Garage Sale at United Stor-All, 12280 East Colonial Drive, Orlando, FL to benefit Just 1 Book!  Great Success!  Thanks to all those who donated their time, talents and treasures to a good cause! August 14, 2011 – Just 1 Book distributes over 1800 books for the second year in a row at the Bithlo Backpack Give-away. August 13, 2011 – Just 1 Book distributes over 1500 books to kids at District 4 Commissioner Jennifer Thompson's Backpack Give-away. July 19, 2011 – Just 1 Book is recognized by the IRS as a "Public Charity" under section 501 (c)(3) of the IRS Code.  Thank you to Attorney David Cozad and KEL Attorney's for their help with the filing. www.kelattorneys.com   July 16, 2011 – Sarah is named "Orange County Citizen of the Year" for District 4 at a ceremony attended by Mayor Jacobs, District 4 Commissioner Jennifer Thompson and many other dignitaries. May 13, 2011 – Sarah is recognized by Mayor Teresa Jacobs during her "State of the County" speech for her work with Just 1 Book April 24, 2011 – Sarah and Just 1 Book are featured again in the East Orlando Sun to celebrate "A Year of Books" on our one year anniversary.  http://www.eosun.com/news/2011/apr/28/a-year-of-books/ April 23, 2011 – Just 1 Book participates in an Easter Celebration at "Harvest of Hope" in East Orlando.  It was very moving and rewarding.  Thanks so much to our best partner, Miller's Ale House, for donating over 500 meals and 350 Easter Baskets!! April 19, 2011 – Sarah receives a "Good Citizenship Award" from OCSO Sherriff Jerry Demings!   April 16, 2011 – Just 1 Book, along with My Kids Plate and the 5 & Diner hold a "Rock n Roll Street Party" to benefit J1B.  A Great Time was had by all!!  Thanks to all our vendors who participated!   April 2-3 – Just 1 Book participates in "Spring Festival in the Park" at Lake Eola in Orlando.  We spread the word and continued networking with our friends!  March 24, 2011 – Sarah meets with Orange County Head Start and agrees to provide books for 19 programs throughout Orange County!! March 17, 2011 – Just 1 Book agrees to provide books to The Boys & Girls Club of Central Florida at 16 of their locations throught Orange, Osceola, Seminole and Brevard County!!  March 3, 2011  "Pizza Night to Benefit Just 1 Book" at The Flying Pizza Company!!  The restaurant will donate a portion of all sales for that day (dine in and take out) to Just 1 Book to help promote childhood literacy.  Please click on the following links to find out more information!! February 4, 2011 – Sarah is recognized by After Hours Pediatrics Urgent Care's "Every Child Makes a Difference" for her work with Just 1 Book.  She is treated to a red carpet awards banquet at Disney's Hollywood Studios.  February 3, 2011 – Just 1 Book donates 500 books to a community in East Orlando. January 29, 2011 – Sarah is a Guest of Honor at the Florida Technical College's Graduation Ceremony.  Thanks for all your support FTC!!  January 17, 2011 – Sarah and Just 1 Book appear on Orlando's Local 6 News